Critics -New York Fashion Week - Fall 09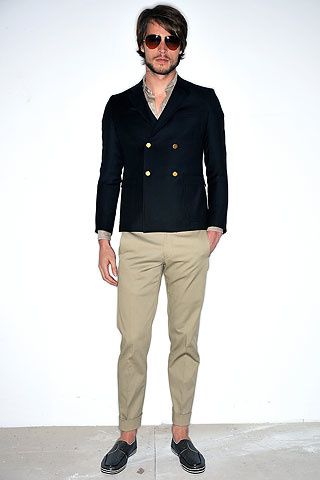 As usual, i spent a litlle time scrutinizing the men's wear shows, wondering how designers in this deep recession could convince us to purchase luxury items.
There's one thing which itself always strucked me, i never ever saw while reading mainstream articles about menswears' shows a journalist whom made critics about a designer or a show.
You've been told that everything is " beyond the cutting edge" ," modern" , "sophisticated"... liked fashion designers were our priest - taste makers and never ever could make a show catastrophe.
As any journalist didnt bad mouth about this fall's collection and as i'm no longer employed, i'll take the job !
I recently heard a radio interview of the man who shared 50 years with Yves Saint Laurent the world wide known french designer.Pierre Bergé was explaining why after his beloved partner died, he auctioned their 300 millions euros estimated art collection which itself is the most impressive ever seen (Mondrian, Matisse ,Warhol).
Suprisingly we discovered that Mr Yves Saint Laurent always hated " fashion" and by the way never had a good esteem for designers, they're using " women" to design clothes instead of being at their please.




Yves Saint Laurent always tried to dedicate his work to a style research where women could be seen as natural, naive, flexible.Style only exists cause it's intemporal.Jean Cocteau said once day " Fashion goes from beautiful to awful and Art goes from awful to beautiful".
My first round of applause goes to Band of outsiders, the New York based label designed by Scott Sternberger.