Forced From Executive Pay to Hourly Wage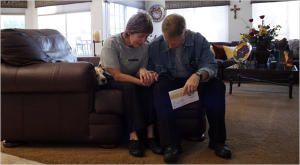 By MICHAEL LUO
TEMPE, Ariz. — Mark Cooper started his work day on a recent morning cleaning the door handles of an office building with a rag, vigorously shaking out a rug at a back entrance and pushing a dust mop down a long hallway.
Nine months ago he lost his job as the security manager for the western United States for a Fortune 500 company, overseeing a budget of $1.2 million and earning about $70,000 a year. Now he is grateful for the $12 an hour he makes in what is known in unemployment circles as a "survival job" at a friend's janitorial services company. But that does not make the work any easier.
"You're fighting despair, discouragement, depression every day," Mr. Cooper said.
read more Nytimes.com