"Neo-Geo"'s Ashley Bickerton
Recently, his work was included in The Incomplete at the Chelsea Art Museum and the East Village USA retrospective at the New Museum of Contemporary Art in New York, as well as a solo exhibition of works on paper at the Singapore Tyler Print Institute. Bickerton was a seminal figure in the East Village scene in New York and one of the original members of the group of artists that came to be known as "Neo-Geo." He remains an influential figure with younger generations.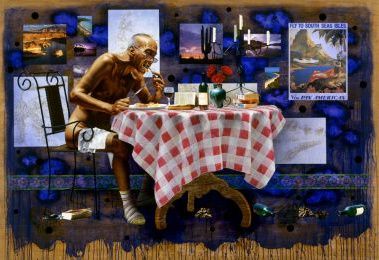 Ashley Bickerton was born in the West Indies in 1959. He studied at the California Institute of the Arts, graduating in 1982, and continued his education in the Whitney Museum Independent Studies Program in New York, where he continued to live and work until 1993. Since then, Bickerton has taken up full-time residence on the island of Bali where he continues to work.
Currently his work can be seen in Fractured Figure: Works from the Dakis Joannou Collection at the Deste Foundation in Athens, Greece. Upcoming exhibitions include SAND: Shifting Boundaries/Mutable Meanings at the Parrish Art Museum in Southampton, New York.