and Nixon's coming" | the draft
R.C. Baker's first solo exhibition with the gallery.
" . . . and Nixon's coming" combines art, fiction, and design to create a multifaceted narrative that arcs from the Moscow show trials of 1937 to President Nixon's resignation, in 1974.

Divided into four sections, the work views the turbulent artistic and social ferment of the mid-20th century through the experiences of the story's main character, Kirby Holland, and through his artwork, including academic drawings and studies after the old masters, comic-book illustrations, and amalgams of Abstract Expressionism, Pop, and graphics.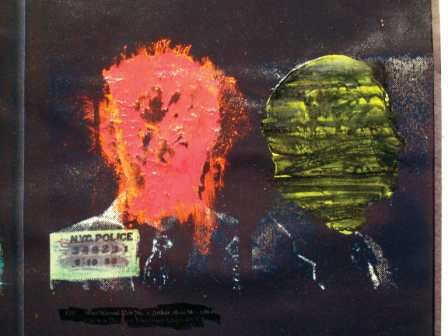 Whether figurative or abstract, none of the art functions as illustration; rather, the images create a parallel track to the text. Kirby progresses from earnest art student to member of an army unit charged with repatriating Nazi loot to comic-book illustrator caught up in McCarthy-era witch hunts to determined and eclectic painter at a time—the 1970s—when painting was viewed by many as irrelevant, if not completely dead.
On Saturday, April 18, at 1 pm, Mr. Baker will read from " ... and Nixon's coming" and discuss the work in the exhibition as well as the relationship between criticism and fiction.
R.C. Baker's articles and essays have appeared in The Village Voice, Performing Arts Journal, The New York Times.