South Park on humbling "The voice of this generation"
The Comedy Central show Southpark skewered "the voice of this generation" rapper on its show Wednesday night.Kanye with his weirdly dressed friend is portrayed as someone who never had enough about himself that he couldnt even take a very politically incorrect joke.
A satire so smartly painted that Kanye seemed chastened, and ready to turn over a new leaf.
click on Kanye to watch the full episode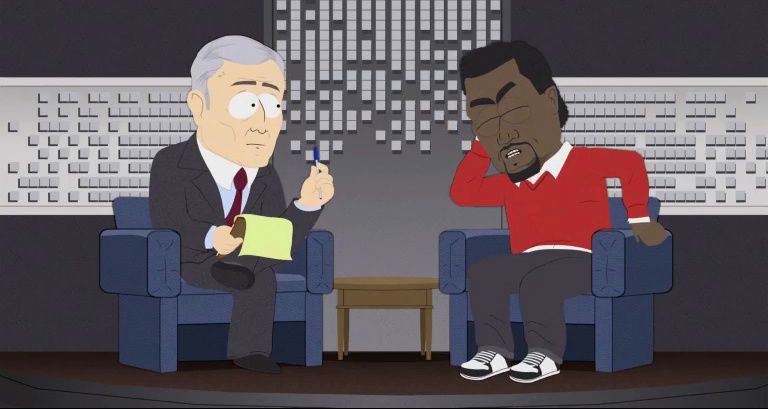 On his blog, he wrote

: "SOUTH PARK MURDERED ME LAST NIGHT AND IT'S PRETTY FUNNY. IT HURTS MY FEELINGS BUT WHAT CAN YOU EXPECT FROM

SOUTH

PARK

! I ACTUALLY HAVE BEEN WORKING ON MY EGO THOUGH. HAVING THE CRAZY EGO IS PLAYED OUT IN MY LIFE AND CAREER."


Beyond the funny tale, there's something which did really struck a chord.At the end of the show, Kanye finally accepted to stand for who he is : " a gay fish". Dressed in a green YMCA accorded outfit he found himself immerged in the fish world singing with his so called auto-tune voice his love for them.It's sounded to me like a double talk or a cold sentence.What you guys think ?

Being deeply humbled by the show, Kanye was almost forced to said that people won't take him seriously if he keeps it up (perhaps referring to his well-documented meltdowns at awards shows when he didn't win what he expected).This kind of show should be extented to holliwood divas, politicians, public figures who fully blown up the media landscape never being enough about themselves.
The Gay Fish Song
the full, uncut 2 1/2 minute version of the "Gay Fish" song.

Get it now!