I fell in love with the dutch bicycle related men's style section featured in the NYT this morning.For a long,Amsterdam has been widely held as a free- smoke town than a bike city.From top executives to the regular dudes, the so called "must-own-a-car us ideology" here, has sunk into the Atlantic ocean to immerge as a must-own-a-bike the other side.Elegantly riding, amsterdamers couldnt live without a bike - its in their pores- Getting rid of it would be like depriving America from Mc Donalds, being more than a value it's truly belongs to the culture identity.Meanwhile, my sweating-self reaching the downtown office each single morning -whether its snowy, cold, rainny- after one hour -ride-a-bike from Fort Greene-Brooklyn, is barely what i call go green-and-cute !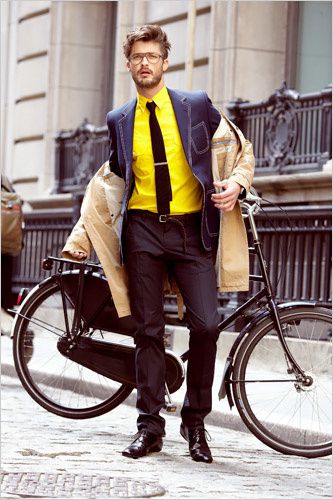 I'm a fan of the dark ink pants revealing a fitty cool & sophisticated silhouette coupled with the Tod's leathered wingtips.It reminds me a year i spent studying in the south of France (Toulouse).Poor or rich, everyone in their daily outfit was so edgy, detailed focus that i felt enrolled in an Art departement than a Law one.Thus my european style sensitivity born out.
Interactive: Civilized Riding
Navy cotton jacket with contrast detail, $1,525, dark ink pants, $570, sterling silver tie bar, $225, and steel-case watch with black rubber strap, $1,295, all at Gucci;
Black Label lemon-yellow cotton button-down, $325 at Ralph Lauren; silk-knit tie, $135 at Paul Smith; braided leather belt, $69 at Club Monaco; leather wingtips, $465 at Tod's; belted trench, $398 at J. Crew.
Bicycle: Dutch WorkCycles transport bike, $1,749 from Dutch Bike Seattle.