World's Sexiest Beaches 2009
The Baths, Virgin Gorda, British Virgin Islands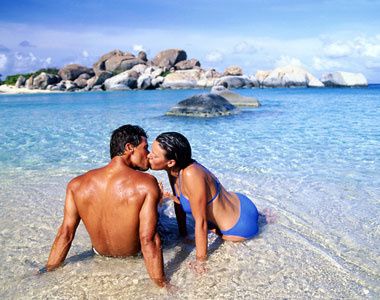 The turn-on: Virgin Gorda's hidden coves and sandy stretches are far from the body-shot crowds that plague parts of Jost Van Dyke and Tortola. One of 60 islands in the British Virgins chain, Virgin Gorda is the province of trysting couples and libidinous newlyweds who hole up in luxury resorts like the Bitter End Yacht Club and the Rosewood Little Dix Bay. Virgin Gorda's beaches are legendary, but the Baths, where towering granite slabs press up against one another and turquoise water teases the shore, is the island's most famous—and most photographed—stretch of sand. (Sports Illustrated shot its steamy Tyra Banks swimsuit cover here in 1997.) The Baths can get crowded by midday, but arise at dawn and you'll have its twisting grottoes largely to yourself.
Hot bodies: The name of the island may translate as "fat virgin," but you'll find just the opposite. Expect trim, tanned yachties and the bottle blondes that love them, flush-faced young married types, and celebs from Heidi Klum to Elizabeth Hurley.
Bed down: Aquamare is a secluded enclave of five-bedroom villas with outdoor soaking tubs obscured by lush greenery and private infinity pools that stretch toward the Sir Francis Drake Channel.